Spring cleaning has taken on a further meaning this year since most of us around the country are under stay at home orders. One positive aspect created from this order is the ample opportunity of time for sorting, cleaning, throwing out and creating piles for donation. Unfortunately, that pile may be hanging around for a while longer than usual, as donation options remain limited.
There are some alternatives now, and some tried and true locations that will gladly accept your donations once the restrictions have been lifted.  Here are a few fresh ideas for donating certain items around your house. You can find links to their sites on our Resources Page.
We recently learned about a unique opportunity to help others while making good use of shipping boxes that may be piling up around your house or garage. The idea is simple: gather clean, unwanted items (no liquids, hazardous materials or fragile items) and pack them into your used boxes. Visit givebackbox.com, enter your zip code and download free shipping labels. Print and attach labels to your boxes, drop them at a Post Office (or request a pick-up), and off they go to a local charity. For an extra fee, you can choose which charity you would like to support from a list on the website. If you don't have a printer to print the labels, they will even mail them to you.
Update: We checked in with founder Monika Wiela last month and she let us know that the charities are requesting donations of in-season clothing and shoes only at this time. When I requested labels, the web form displayed an error message, but Monika was quick to get us our labels via email. Thank you Monika!
For more information, check out the website at www.givebackbox.com, or email  info@givebackbox.com.
---
While most curbside recycling services do not accept styrofoam, Tigard-based Agilyx accepts several types of post-consumer polystyrene. Some of the forms of polystyrene that Agilyx accepts include foam products like coffee cups, block packaging (that's the stuff that holds your electronics in their original boxes), meat trays and to-go containers, and what is considered "non-rigid products", like CD cases, wine tasting cups, and coffee creamer shells. Anything with a #6 or "PS" marked on it for recycling purposes can be dropped off.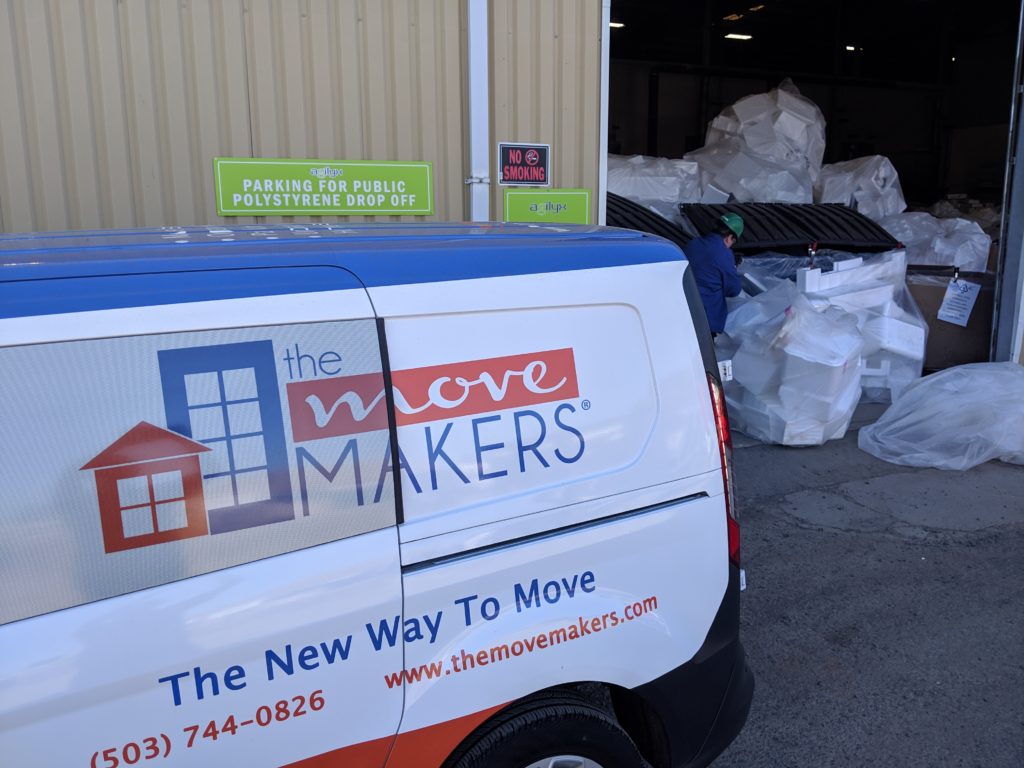 Agilyx has a drop off container in their parking lot at 13240 SW Wall Street, Tigard, Oregon, which is open 24/7. If you have questions, they're answering the phones during the quarantine, so you can contact them at 503-217-3160.
Note:  They do not accept starch-based packing peanuts, PE foam (which is thin, lightweight foam often used in packaging), PP foam, or hot tub covers.
---
Community Warehouse is a wonderful resource for local donations, and their mission is to help those in the most immediate need in our communities with the basic necessities to help them get back to independent living. Donations will begin on May 11 for a limited number of items at their Portland location only, but meanwhile, their Home 2 Go kit campaign will directly benefit the community right now.
The Home 2 Go Kit offers pre-packaged essential items that adhere to health and safety guidelines for preventing the spread of COVID-19, according to their website, and the kits consist of new items, including a new dresser, an air mattress, bedding, towels, cookware, and dishware, among other essential items.  The dressers are built and donated by a local manufacturer that has been supporting Community Warehouse for several years. Please click here for more information on what they will be accepting beginning May 11th at the Portland location.
---
Tools 4 Troops – We highlighted this worthy organization in our newsletter a few months ago, and founder Pete Wall is still picking up donations of used tools that are given to veterans. Tools are now being shipped directly to veterans via USPS flat rate boxes, rather than their in-person Stand Down events. For more information or to make a donation, please contact Pete at www.tools4troops.org, by email at walls@comcast.net, or call him at 503-490-0562.