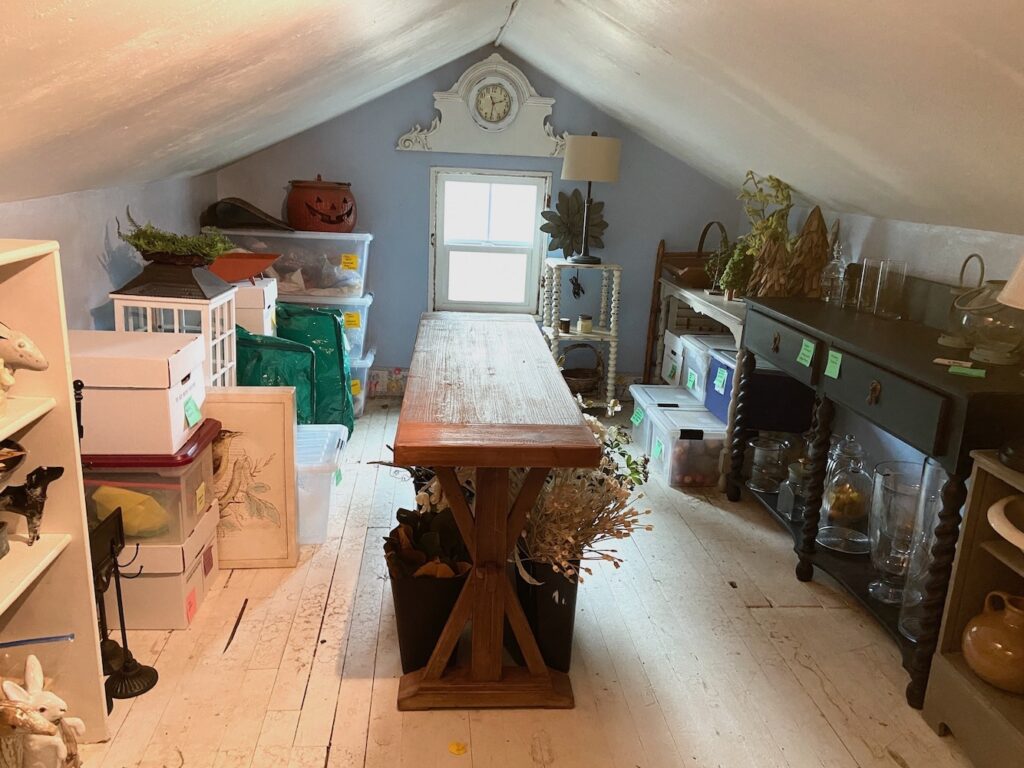 Even though I live in a small home, I enjoy changing out my decor with the seasons. Over the years I have curated a collection of interesting items that I can arrange and rearrange with endless possibilities, which keeps me interested and my spaces fresh. I am fortunate to have a small walk up attic and this is my designated area for storing all decor by season.
When I was putting away holiday decorations earlier this month, I noticed that about half the boxes had not been touched. In fact, I remembered that this was the second year in a row it had happened, signaling to me that it was time to take action. Here are the steps I took to evaluate and downsize my Christmas decorations. The same steps apply to decor for any season:
After decorating for the season or holiday, collect all unused items and bring them to a sorting area, such as your garage. Table space and good lighting is helpful.
Empty the contents of your containers and sort into categories, such as ornaments, filler, greenery, kitchen items, etc. If there are any items you missed that fit into your current decorating scheme, use them. Dispose of anything damaged or broken.
Immediately pack boxes for donation, or choose to offer the remaining items to family and friends in person or by taking and sharing photos. If anything is claimed, box it up and add the person's name to the box. Pack up the rest and mark for donation.
Distribute the boxes right away, or place the boxes in your "holding area", with other items waiting to be dispersed (see our article about garage organizing here) if you have the space and need a little more time to reflect. The key is to pack and mark boxes after you sort.
If you choose to hold items to donate or disperse later, make it a priority to decorate your home early the next year. Decorating should be much quicker, since there will be less boxes and everything is current.
Once decorating is complete, review the contents of the boxes in your "holding area", to be sure you agree with your decision to part with them. You will find that reviewing previously sorted items is much easier than making the initial decisions.
Finally, deliver or ship them to the recipients in time for them to be used and appreciated during the upcoming season.
A note about storing items for children: I have space above my garage designated for storing items my young adult children are interested in keeping. It is a limited amount of space, out of my way, and my kids know that they are responsible for their items. Even though technically I still have the items on site, I have already parted with them and no longer have to sort or make decisions about them. I understand that letting go of childhood memories is a process and I am willing to offer them a little space and time while I am able to.